About Heavydrive
The Tapfheim-based company Heavydrive has been on the road to success since 2006
The success story of Heavydrive GmbH started in 2005 with a striking idea: Existing mini crawler cranes on the transport and lifting market were able to lift and position loads. What they could not do, however, was drive under load. Then, mechanical engineer Günter Übelacker developed light, stable transport equipment and thus the HDL series was born. The clever construction of the glass transport wagon guarantees stability by the goods to transport itself. This intelligent construction was patented by the German Patent Office in Munich. Demand was tremendous: The new HDL series took the company to global leadership within just a few years.
In this interview, Günter Übelacker describes the services, product range and specialty areas of Heavydrive GmbH. He also provides information on current innovations and the course of the project business.
The companys foundation
In 2006, Guenter Uebelacker founded the company Heavydrive consisting of two employees in Pfreimd in Oberpfalz, Germany. With a vacuum suction system by Woods Powergrip, an assembly crane SLK 25, a HDL 800 and a transporter the company expanded in the renting area and laid the foundation for the Heavydrive rental park. In November 2006, the company moved to Donauwörth, where its headquarters are today.
From this time on, Heavydrive began its success story. Thanks to increasing turnover, the company was able to increase its team to six employees. Being present at international trade fairs such as Glasstec in Düsseldorf, Frontale in Nuremberg or the window construction trade fair in New Delhi, Heavydrive has soon become known as an all-in-one provider of lifting and transport solutions.
Large-scale international projects
In 2007, the first large-scale international project followed: putting glazing of the façades of seven high-rise towers in London City for the company Gebr. Schneider in Stimpfach. Heavydrive was responsible for the complicated static calculations for the building shells, supplying a Helm rail system from the product series HSS and MKZ. Alongside its day-to-day vehicle hire business, the Donauwörth-based company completed the project within the deadline of a few months, achieving a turnover of just under 115,000 euro.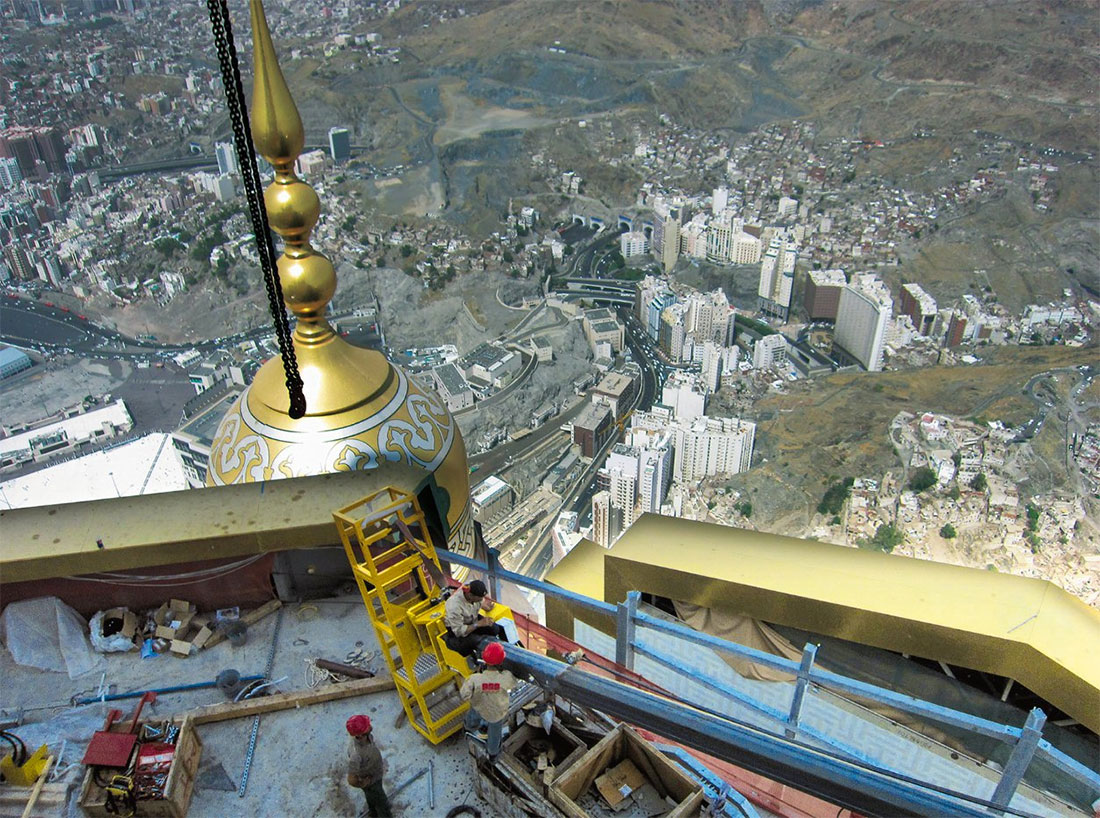 One year later, Heavydrive once again demonstrates its competence in the next large-scale project. Heavydrive takes on a job that involves moving two complex pieces of art made of steel and glass for an exhibition in the Guggenheim museum in New York, taking care of everything from packaging to transport. The largest element of these pieces of art is a glass pane measuring 3.20 metres in diameter. For transport by ship from Bregenz to New York, company founder Guenter Uebelacker developed special racks, making sure that the pieces of art were delivered to the Guggenheim Museum in New York safely and on time. This project earned Heavydrive a turnover of more than 100,000 euro.
The reliable single-source service provided by Heavydrive is also much in demand on the Arabian peninsula. In 2009, for the construction of the then second tallest building in the world, the Royal Clock Tower in Mecca, Saudi Arabia, Guenter Uebelacker signed a supply contract to the tune of around 580,000 euro, which roughly matched the company's annual turnover at that time. The construction of the 601-metre-tall royal clock tower comprising heavy glass elements weighing up to 1,800 kilos required innovative equipment. Heavydrives solution: seven different MRK cranes equipped with purpose-developed overhead manipulators that are designed to lift extremely heavy glass panes even at considerable heights.
Here is an example of this master stroke of engineering: A 3-axle manipulator in the form of a basket which is adapted to a car crane. This enables the assemblers to transport and install the heavy glass panes weighing 1,800 kilos from the outside of the building, even at a height of 560 metres. Within only six months, Guenter Uebelacker managed to develop and produce this new equipment in Japan, Italy and Germany, including the time-consuming certification process carried out by TÜV Nord. With this successful project, the company reached a turnover of one million for the first time.
Heavydrive continues to expand
Heavydrive has secured a foothold in this sector thanks to its customised assembly and transport solutions for any construction site situation. Increasing demand calls for expansion: In 2010, the company moved to the 10,000 square metre factory premises in Kuesterfeldstraße in Donauwoerth and increased its team to eight employees. The rental park has also steadily increased: The company's range of products includes different MRK mini cranes by the manufacturers Maeda and Unic, various vacuum suction systems (VSG) with a payload of up to 2,500 kilos, glass fitting equipment (GMG), motor chain hoists (MKZ), glass transport wagons (HDL) as well as assembly cranes (ML). The company also rents out all-terrain telescopic forklift trucks (GTS) and lifting platforms (GTB and SB).
At its headquarters, the company offers professional servicing and repairs on machinery and has its own wash facilities for both small-sized and large-scale equipment. Here, trained staff perform maintenance and repair work on company-own and external equipment and guarantee 100% machine operation. A dedicated test area enables employees to check the equipment's vacuum power and adjust the vacuum suction systems for each construction site situation accordingly. The company's central location in Donauwoerth ensures quick and reliable delivery. The equipment is kept in two well-organised warehouses and is "on-call" at all times and can be shipped to Frankfurt and Cologne in 3 and 5 hours, respectively. For small equipment, Heavydrive even offers worldwide overnight delivery including all customs and transport documents.
Increasing global demand for Heavydrive assembly solutions
Thanks to its specialization in the complicated assembly of extremely heavy glass elements, Heavydrive is involved in more and more internationally renowned construction projects. These include the Lakhta Center in St. Petersburg, the Elbphilharmonie in Hamburg, the Jakobshalle in Basel, the Etihad Museum in Dubai and the Mormon headquarters in Salt Lake City. Further international assignments as well as setting the world record indoors at the world's leading trade fair Glasstec can be found under: "News".
As a result of the increasing demand for Heavydrive systems all over the world, the company's international expansion begins in 2018 with branches in Freienbach (Switzerland), Dubai (Arab Emirates), St. Petersburg (Russia) and Atlanta (USA). In this way, international customers receive personal advice and fast delivery of the devices from the local warehouses.
Comprehensive digitization of the company
In 2019 Heavydrive will start a profound digitization of the company. This includes a complete modernization of the technology such as a new server structure, a new ERP system and the networking of international branches and logistics partners. GPS tracking enables the delivery to be continuously tracked in real time anywhere in the world. All fitters now have a tray so that all Heavydrive employees are always networked with one another and can access customer orders, etc. In addition, Heavydrive develops digital services for customers, such as the Heavydrive app, the digital device finder or advice via video telephony.
With foresight into the future
The success curve of the Donauwörth company continues to rise. Heavydrive GmbH is now the market leader with various products in a segment that is expected to grow rapidly. The company is constantly expanding its machine park and now offers systems for the assembly of glass elements up to ten tons as well as comprehensive expert advice from the planning phase through the test application to the final assembly.
Managing director Günter Übelacker knows the market and has a clear vision: "I always put out my feelers with a view to the future. I take steps that no one has taken before me. We always have a clear goal: To be better than the market expects of us. "To this end, Heavydrive is constantly developing new, innovative special machines for a wide variety of construction sites and any borderline situations. From the practice for the practice. Quality and reliability are the top priorities.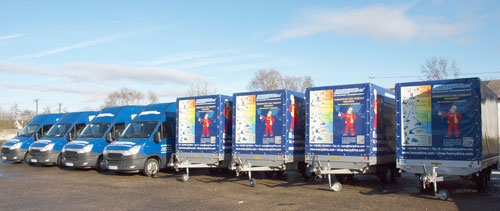 2022
Foundation of a subsidiary in Canada
2020
Focus on digitization
2019
Foundation of a subsidiary in Russia
2018
Foundation of a branch office in Switzerland and expansion into the USA and Dubai
2017
Market-leading further development of the product line "heavy vacuum suction systems" now for panes up to 24 m in length and 8 to load capacity. International glass assembly projects, currently the world's largest panes.
Spring 2016
Moving to Tapfheim and expansion of the company premises to 18,000 square meters
Turnover of more than 2 million euros
2015
Development of the product series "Heavy suction systems for capacities of up to 6,000 kg"
2014
Numerous international large-scale projects in Sweden, England and the USA
Expansion to 16 employees
December 2013
Expansion of the company premises and of the employees to 12 people
2013
Increasing the fleet of vehicles
2010
Moving to Kuesterfeldstraße in Donauwoerth onto 10,000 square metre halls,
storage area and offices with an expansion to 10 employees
2010
Renaming of the company into Heavydrive GmbH
2010
Large project: Makkah Clock Tower
2009
Expansion to 6 employees
2008
Large project: Moving pieces of art, Guggenheim Museum New York
2007
First large project: Steel work planning and façade glazing, London City
November 2006
Moving the headquarters to Donauwoerth, Goethestraße
February 2006
Foundation of the company in Pfreimd with 2 employees
2005
Developing and patenting of the HDL glass transport wagon